The American Guard (AG) is a hate group with multiple chapters in the Intermountain West. We are providing this summary of the group's history and beliefs as background for future articles highlighting American Guard members who live and work in our communities.
American Guard began in Indiana, as a chapter of Soldiers of Odin (SoO). SoO is an anti-immigrant Finnish vigilante group that has spread to other countries. The Indiana chapter of SoO USA was led by William Brien James, who had previously founded the Vinlanders Social Club (VSC), a violent neo-Nazi skinhead gang responsible for multiple murders and other violent crimes.
In 2016 Brien James and two of his associates, Joshua Long and Ryan Ramsey, rebranded the Indiana SoO chapter as the "American Guard," and started building it into a national organization under James's leadership.
American Guard's platform and beliefs, as outlined on their website, are mostly unobjectionable. Few Americans would argue against the general idea that "the search of any person or their property without a warrant is unconstitutional," for example, or that "freedom of speech means all constitutionally legal speech and thought should be equally protected." But the devil, as always, is in the details, and American Guard professes other beliefs that are more troubling. Included in their list of beliefs is the statement, "We respect freedom of association. We consider any action taken to forcibly segregate, integrate, or restrict the movement and free association of citizens to be unconstitutional and tyrannical." This appears to be a direct repudiation of the Supreme Court decision in Brown v. Board of Education of Topeka, which declared state laws establishing racial segregation of public schools to be unconstitutional.
Their stated respect for the US Constitution, and their belief that "discipline and the law were created within societies to secure freedom, not to hinder it," would seem to indicate that the American Guard are a law-abiding bunch. However, they also believe that "our federal government is operating in direct defiance of […] the 10th amendment, and has been for over a century."
It's unclear whether they feel obligated to follow federal laws that have been enacted in the past hundred years, but they do make it clear that violations of the group's stated constitutional principles "amount to treason by our elected officials and law enforcement." Constitutional penalties for treason include death, or imprisonment and a fine of not less than $10,000.
Brien James freely admits that he – and many other members of American Guard – have been involved with racist groups in the past, but he claims AG is a different kind of organization. "Several of us are former white nationalists. We are not ashamed of the choices we have made in life. We learn from them and move forward." As for what attracts so many former neo-Nazis to join his group, James says, "They see American constitutional nationalism as a more practical and productive alternative than the ethnic nationalism they were previously engaged in."
These statements imply that the members of American Guard no longer hold white nationalist views, but they also echo a statement to the contrary penned by Brien James in 2007, while still a member of VSC. He wrote, "After careful review of the events and circumstances, we have determined that our best course of action as Vinlanders is to separate ourselves from the racist movement … we do not see anything positive being accomplished, for our nation or our people, by participating in the white racialist movement as it stands." He concedes, "The basic premise that ALL white people are superior and decent is flawed. They are not. … By the same token all non-whites are not savage beasts that have to be treated with disrespect in order to maintain ones 'white power' credentials." He then asks rhetorically, "What does this mean? Does it mean our beliefs are wrong?" before answering, "For the most part it does not have to."
American Guard's stated purpose is "voluntary community protection, activism, and service based around the ideals of American Constitutional Nationalism and the preservation of western culture." They claim to encourage "Americans of any race, class or faith to participate with us in these beliefs," and are quick to point out that not all members of the group are white.
If the founders and members of American Guard have indeed left behind the racism and violence they participated in previously, that is good news. But old habits die hard sometimes.
The American Guard has a history of association and cross-membership with the Proud Boys, an extremist group known for its misogynistic and anti-Muslim ideology, and its propensity for violence. AG also participated in the deadly Unite the Right rally in Charlottesville, Virginia in 2017, marching alongside the white nationalists who chanted, "Jews will not replace us" and "Hitler did nothing wrong."
In December of 2019, Brien James tweeted his agreement with the statement, "It's about time the term racist is classified as an anti-white slur."

American Guard's logo features a pair of meat cleavers crossed over a red, white, and blue shield.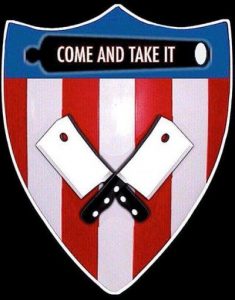 The cleavers are a reference to "Bill the Butcher," a character from the movie Gangs of New York, who was loosely based on real-life Bowery Boys gang leader William Poole. The character is anti-immigrant, anti-Catholic, and an explicit racist. American Guard uses images of the character, who was portrayed in the movie by Daniel Day-Lewis, in their promotional and recruiting materials. In this image he is used as a substitute for Uncle Sam in a parody of the classic US Military recruiting poster.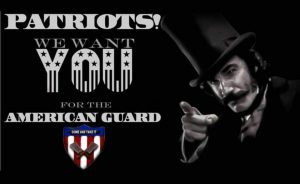 As much as Brien James and his fellow gang members would like us to believe they've changed their ways, we're just not willing to take their assertions at face value.
MORE INFORMATION
The following links have more information about American Guard. Utah Antifascists are not affiliated with these sites, and are not responsible for their content. Please be aware that some of the sites that are linked may have racist language and content, or other content that is offensive or otherwise NSFW.
Article on Brien James, detailing his past involvement with racist groups; includes the full text of the statement he wrote about VSC leaving the white racialist movement
RTV6 Indianapolis report on AG
American Guard "What We Believe" theamericanguard (dot) org/what-we-believe/
American Guard "Platform" https://theamericanguard (dot) org/platform/
ADL report on AG's ties to white supremacist groups
Information on AG's connections to the nativist "Know Nothing" movement
Scholarly article on the classical symbols appropriated by AG
Daniel Suarez article on Gangs of New York, including excerpt of dialogue demonstrating Bill the Butcher's racism
RTV6 Indianapolis report on AG at Unite the Right rally in Charlottesville